---
The second project of "Introducing modern Japanese songs" is "Tokyo March".
With the help of opera singer Eriko Iida and my father (English literary artist), we were able to publish the video. I would like to take this opportunity to thank you.
The original "Tokyo March" which was a tie-up work with a silent movie of the same title, was released by Victor Records in 1929.
The lyrics were scribed by Yaso Saijo, and the composition by Shinpei Nakayama and singer was Chiyako Sato.
This time I arranged and released it on youtube as the "2020 version".
For making this image video, we shot in various places in Tokyo according to the lyrics.
The following is the recording location of the adopted cut.
Around Ginza
Alley behind Taimei Elementary School
Ginza Wako Building
GINZA SIX
Beer hall LION Ginza 7 chome
Around Tokyo terminal station
The Tokyo Station Hotel (Founded 1915)
Marunouchi Building (The Maru Building in 1923 was 8 stories. The current building completed in 2002 is 37 stories.)
Marunouchi Nakadori
Imperial Theater (Completed in 1911. The current complex building was completed in 1966)
Unizo Yaesu Building
Around Asakusa
Asakusa Station on the Ginza Line (Opened in 1927)
Tokyo Cruise Asakusa office
Kaminari-mon Gate
KAMIYA BAR(Founded 1880)
Shinjuku station
Odakyu Line West Gate (underground ticket gate)
---
We shot them before the COVID19 became more serious, so it was at the last minute. Actually, we were planning to shoot and use the night view of Shinjuku, but we had to give up due to a timeout.
This time we completed it with the materials we have.
You may have thought that this song is not a "march".
The commentary of the translator below will tell you about it.
The term 'march' originally means 'a piece of music composed to accompany marching or with a rhythm suggestive of marching', but decades ago pieces of music attached to interludes between movies in theaters in Kobe, Kyoto and Osaka, were called 'march' and became popular. Since then the term was widely used as something rhapsodic in local-news pages or titles of movies and records.

Reprinted from the explanation section of YOUTUBE "Tokyo March"
---
Eriko Iida's Profile (Soprano)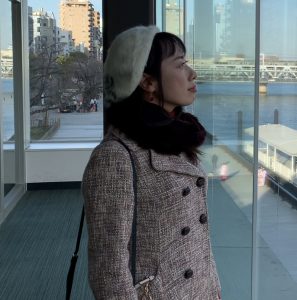 Career
Graduated from Tokyo College of Music
Completed the Nikikai Opera Training Institute
Studied under Yoko Oshima and Hiroshi Kawakami
A member of "Saitama City Opera"
Opera appearance
Second Boy "The Magic Flute"
Barbarina "The Marriage of Figaro"
Despina "Così fan tutte"
Norina "Don Pasquale"
Miss Pinkerton "The Old Maid and the Thief"
etc…
Activities
Her Concert activities in the Tokyo metropolitan area such as schools, public halls, hospitals, and nursing homes have been well received for their programs. Various genres are incorporated in those programs, such as classical, musical, popular songs, nursery rhyme, animation songs, and movie songs.
In addition, she has been active in a wide variety of activities such as appearing in campaign songs, radio commercials, and reading performances in Anglo-American dramas.
And is also focusing on teaching younger singers.
About arrangement
This work is newly arranged as the 2020 version. We will publish a part of it. If you want to use or buy, please contact us. Especially for non-profit activities, we will provide it free of charge.
Email : creativepotekoda@gmail.com
We plan to start a business of creating image videos of inbound tourism with professional musician.

Would you like to appeal to tourist spots or dining spots at YOUTUBE with music played by professional artist?
For more information, please contact the above email address.
About us
  https://creativepot.jp/creative-garden-tokyo-english-page/
Follow me!