At the end of January 2020, Saxophe player Kenshi Watanabe came to the studio of CreativePot Tokyo to record his original piece.
We planned the project of marketing, but due to the busyness of each other and the outbreak of COVID19, the project had to be suspended.
Although it is incomplete, I would like to introduce it on this web site.
---
---
This work was written by Watanabe in 2019.
While traveling by train in Kanagawa prefecture, he wrote this work, inspired by the scenery from the window.
The line marked green on the map below is a private railway called Enoshima Electric Railway (commonly known as Enoden), which connects Fujisawa and Kamakura along the sea. He said he got on this railroad when traveling.
You can see the beautiful Shonan sea from the Enoden train window.
---
As an aside, I used to use the Tokaido Line (a local line running from Tokyo to the West), because I was from Mishima City, Shizuoka Prefecture which is next to Kanagawa Prefecture.
So when I first listened to this song, I thought it was inspired by the scenery of the coastline around Nebukawa, Manazuru and Yugawara which are the station of Tokaido Line.
The MAP below marks the areas between Nebukawa and Yugawara on the Tokaido Line. In particular, Yugawara-cho, which is also a hot spring area, has long been famous as a destination for literary and ink tourists.
---
We were planned to take trains to collect, edit and introduce the video in line with this recording.
For, I wanted to make you taste of "Curvy Seashore" along with the actual scenery around these area.
However, as of April 23, the time of writing this document, the number of COVID19 infected people in Tokyo is increasing, and we have stopped going to Kanagawa prefecture, which is the neighboring prefecture, to help prevent the spread of infection.
When the disaster caused by this infection has come to an end, we would like to go on location!
Kenshi Watanabe's Profile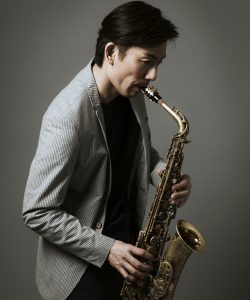 Saxophone player.
Born in Saitama Prefecture in 1977.
During college, joined the Modern Jazz Group at Tokyo University of Science.
Studied under Hidefumi Toki.

Currently, while performing research on robotics, plays as a player and plays in back bands.
Constantly studying music and robotics and their fusion.
The Train enthusiast.

Official Web site : https://kenshiwatanabe.tumblr.com
Related article
https://creativepot.jp/creative-garden-tokyo-english-page/
Follow me!